Pellon
Legacy 971 High Loft Fusible Fleece, equivalent to Pellon® TP971F Fusible Thermolam® Plus
Legacy 971 High Loft Fusible Fleece, equivalent to Pellon® TP971F Fusible Thermolam® Plus, an extra lofty, needled fleece with fusible adhesive on one side. It is great for craft, home decorating, and quilting projects. This fleece will remain lofty after fusing and can be used on fabric, cardboard, or wood. 
White
100% Polyester
Machine wash warm, delicate cycle. Tumble dry low or dry clean.
Sewing machine safe
Sold by the half yard (45" wide)
There are no reviews for this product.
Leave a review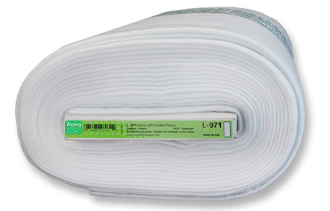 Legacy 971 High Loft Fusible Fleece, equivalent to Pellon® TP971F Fusible Thermolam® Plus
Recommend to a friend